US Robotics Total Control MP/8 and MP/16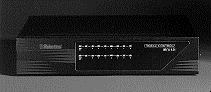 Click box to request more information
---
The affordable, integrated modem pool for small offices.
The Total Control MP/8 and Total Control MP/ 16 integrate eight or sixteen U.S. Robotics V34 modems, respectively, in a compact, self-contained unit. The Total Control MP can stand alone on a desktop, be stacked or rack mounted. It can be cabled directly to a terminal server; or to a rack of PC cards in a J&L Chatterbox or Cubix Host Communication Processor. An optional integrated cable kit simplifies connecting the MP/8 or MP/16 to a Cisco 2500 Series Access server.

The Total Control MP eliminates messy, dangerous cabling and the overheating problems common to non-integrated modem banks. The power supply is internal.

Branch locations, bulletin boards and offices with 16 or fewer modem lines will find the Total Control MP/8 or MP/16 an economical alternative to higher-end, more sophisticated solutions.

Typical applications include remote access for field sales and service personnel; outbound modem pooling for office personnel and online information services for customers.

Both the eight- and sixteen-port versions of the Total Control MP offer U.S. Robotics proven reliability and performance. Each modem supports true ITU-T V.34 at 28,800 bps, plus VFC-, V.32 terbo, V.32 bis, V.32 and earlier ITU-T and Bell standards down to 300 bps for virtually uni- versal compatibility. The Total Control MP also supports Group III faxing at 14,400 bps.

QuickConnect allows modems in the Modem Pool to connect within about 7 seconds, assuring more completed calls every hour. Adaptive Speed Leveling adjusts incoming and outgoing data streams to varying line conditions, independently, maintaining the highest possible throughput on every call.

The U.S. Robotics Total Control MP is the ideal solution for branch office and small workgroup environments where sixteen or fewer modem ports are required, and is the natural complement to any remote access device, terminal server, or multi-port serial device that requires a modem.
---
Technical Specifications
---



 Chassis Capacity
   8 or 16 port configurations available

 Regulatory/Agency Approvals
   FCC Part 15 Class A EMI/RFI
   FCC Part 68
   UL listed
   CSA approved
   IC (formerly DOC) certified

 Power Supply
   AC 
   Fuse protection
   Auto shutoff in overvoltage and short-circuit conditions

 Operating Environment
   Temperature: 0-40' C, 32-104' F
   Relative humidity: 0-95% non-condensing

 Power Requirements
 AC PSU
   Nominal 120V (90-264 VAC) @ 47-63 Hz
 
 Maximum Output Power
   110 watts
   +5V 15A
   +12V 1.9A
   -12V IA
 Maximum Input Power
   160 watts
   1.3 A

 Typical Input Power
    8 port
      47 watts
      0.4 A

    16 port
      94 watts
      0.8 A

 Mechanical Specifications
   Weight of fully loaded chassis: 12.4 lbs./5.6 kg.
   
   Chassis/cabinet dimensions in inches:
          Component Lengdi Width Height
          Chassis        12.6       17.5      3.5
   
   Chassis/cabinet dimensions in centimeters:
          Component Length Width Height
          Chassis        32.0      44.5       8.9

---

Send me some Information!
---

Back to the Products Page.